Introducing our cutting-edge Windscreen Windshield Repair Fluid Tool Kit – the ultimate solution for repairing windshield cracks and chips with ease and precision. This comprehensive kit is designed to address common windshield issues and provide a cost-effective alternative to expensive windshield replacements.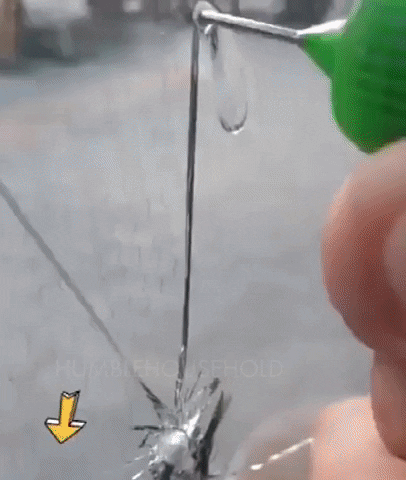 Are you tired of staring at that unsightly crack on your windshield? Say goodbye to the hassle and expense of replacing your entire windshield with our revolutionary Windshield Repair Kit. With just a few simple steps, you can repair cracks and chips in your windshield, restoring its clarity and strength.
Experience Clear Vision and Peace of Mind
Our Windshield Repair Kit is designed to provide you with professional-quality repairs in the comfort of your own garage. No more waiting for appointments or spending a fortune on costly repairs. Take control of the situation and restore your windshield to its former glory.
Benefits that Go Beyond Repair
Save Time and Money: Our kit allows you to fix cracks on your windshield quickly and effortlessly, saving you from expensive replacements and lengthy repair processes.
Enhanced Safety: A cracked windshield compromises your safety on the road. Repairing it promptly ensures optimal visibility and maintains the structural integrity of your vehicle.
Preserve the Environment: By repairing your windshield instead of replacing it, you contribute to reducing waste and minimizing your carbon footprint.
Easy-to-Use for Everyone
Our Windshield Repair Kit is designed with simplicity in mind. You don't need any special skills or technical knowledge to achieve professional results. Our step-by-step instructions guide you through the repair process, ensuring that even beginners can achieve flawless repairs.
Built to Last
We understand that durability matters when it comes to windshield repairs. Our kit includes high-quality materials that are designed to withstand the test of time. Once the repair is complete, your windshield will regain its strength and clarity, ensuring long-lasting performance.
Trusted by Thousands of Satisfied Customers
Don't just take our word for it. Our Windshield Repair Kit has been trusted by countless customers who have experienced its exceptional results firsthand. Join the ranks of satisfied drivers who have restored their windshields to perfection.
Act Now and Reclaim Your Clarity
Don't let a cracked windshield hinder your driving experience. Take action today with our Windshield Repair Kit. Restore your windshield's integrity, save money, and enjoy clear vision on every journey. Click "Add to Cart" now and take the first step towards a crystal-clear future on the road!
Automotive Glass Nano Repair Fluid Car Window Glass Crack Chip Repair Tool Kit
How to Use:
Clean the windshield surface thoroughly using the included cleaning cloth.

Apply the advanced repair fluid using the repair resin applicator, filling the cracks and chips completely.

Place the curing strips over the repaired area to ensure proper distribution of the repair fluid.

Use the curing UV light to cure the resin, strengthening the bond with the glass.

Once cured, remove the curing strips and wipe away any excess resin for a flawless finish.
With our Windscreen Windshield Repair Fluid Tool Kit, you can say goodbye to unsightly windshield cracks and chips. Embrace the simplicity and effectiveness of DIY windshield repair, and drive with confidence knowing your windshield is restored to its original strength.
Note: While our kit is designed to address various windshield damages, it is essential to follow the instructions carefully and seek professional assistance for severe damages or cracks that obstruct the driver's line of sight.
Don't let windshield cracks compromise your safety and vehicle's aesthetics. Choose our Windscreen Windshield Repair Fluid Tool Kit and enjoy a clear view of the road ahead!